DOURO

VALLEY
Houses immersed in the stunning landscape of the Alto Douro wine region.
Vila Marim Country Houses
Among the slopes of the splendid Alto Douro wine region, in the municipality of Mesão Frio, stand the Vila Marim country houses. Named after the parish where they are located, they are about five kilometres from Mesão Frio and cover an area of two hectares. More than just a place to sleep, they aim to show visitors a more ancient and authentic perspective of the Douro, a true paradise for relaxation.
The Nature
Surrounded by vineyards and fruit trees, the houses have panoramic views over the magnificent Douro Valley.
The Food
Breakfast is served in an energising basket and it is also possible to dine on typical regional dishes in the lounge of the accommodation, by prior arrangement.
The Wellness
The outdoor swimming pool, solarium and terrace, surrounded by tranquillity, invite you to relax and feel good.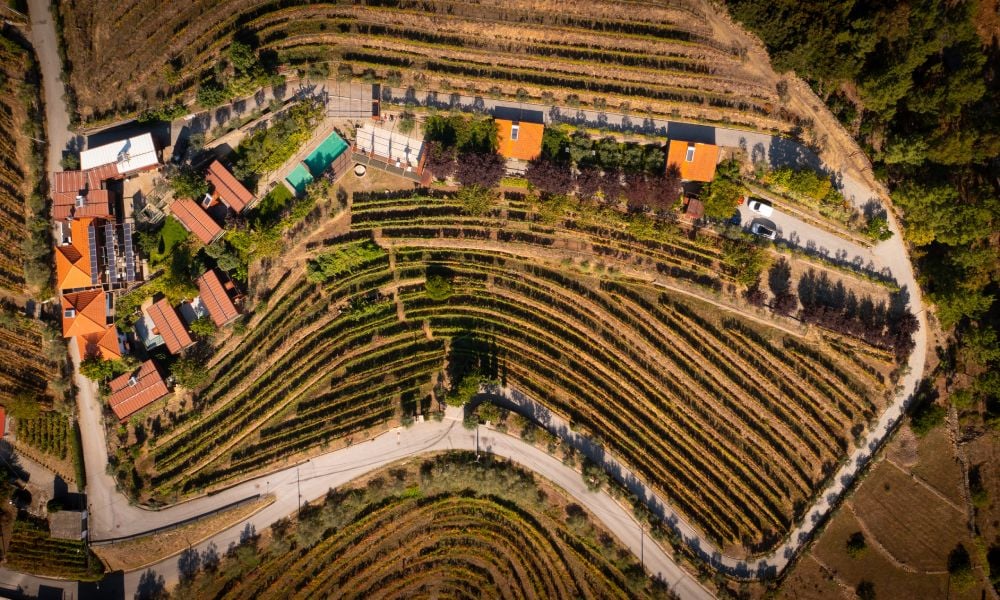 13 houses immersed in the landscape
The property has 13 fully equipped houses, with fantastic panoramic views of the surrounding gardens, vineyards and fruit trees, offering comfort and great versatility, as each has a sofa bed to accommodate families with children or groups of friends.
All houses have ethanol fireplaces and balconies overlooking the vineyards and the incredible Douro landscape. In addition to the houses, Vila Marim Country Houses has an outdoor swimming pool, a recreation room where you can play billiards, table football and darts, and a breakfast room.
One of the great advantages is the location, as it is not in a centre, it appeals to tranquillity, silence and relaxation. The accommodation unit also provides yoga mats for guests to meditate in the green spaces surrounding the houses. In the future, the idea is to promote various activities related to wine tourism and agriculture, both for children and the elderly.
O QUE DIZEM OS NOSSOS HÓSPEDES
No meio de uma vinha em que as "casinhas" estão perfeitamente integradas na paisagem, na qual a tranquilidade inunda cada corredor empedrado, apenas quebrado pela serenidade do correr da água da piscina, dá para desfrutar de um fim de semana longe das correrias. Com as portas abertas da maravilhosa sala/varanda, aqui o tempo pára. Pequeno almoço fantástico, para um regimento. Sublinho a simpatia dos colaboradores, de ótimo trato e diálogo. Para repetir.
Experiência a repetir! Funcionárias bastante simpaticas, instalações remodeladas e muito confortáveis. Uma vista incrivel sobre as vinhas. Um local de descanso no meio da natureza.